Paul Beaver presents: 'Abraham Lincoln in Logan County, IL 1834-1860'
Send a link to a friend
[February 21, 2012] ELKHART -- Paul Beaver, Lincoln College professor emeritus, appeared as guest lecturer at the Wild Hare Cafe in Elkhart last weekend, for the first in a new series of dinner lectures sponsored by the Elkhart Historical Society.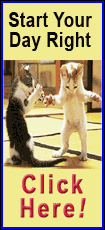 Forty customers enjoyed the tasty hometown cuisine and Beaver's talk and PowerPoint presentation, which revealed some of the topics covered in his recent book by the same title, presenting Abraham Lincoln's work as a central Illinois surveyor, lawyer and politician. They learned that Lincoln both naturally and on purpose cultivated friendships during these years, which did everything to catapult him from regional to national politics and eventually to the presidency of the United States.

Several items that have been reported and written in numerous books about Abraham Lincoln were pointed out by Beaver to be simply untrue or inaccurate. He supported these findings with documented research that he has done, including information from interviews with descendants of family who knew Lincoln in the mid-1800s.

Beaver also revealed information about John D. Gillett, who was a local cattle baron in those days and who supported his friend Abraham Lincoln both emotionally and financially in the months of 1860 when Lincoln was a Republican nominee and elected as our 16th president.

Several known court cases involving Mr. Lincoln in the Postville and Mount Pulaski county seat venues were discussed, including one that occurred under a tree along Salt Creek north of Mount Pulaski, reportedly on the former Emmett Shellhammer farmstead.
Interestingly, Beaver pointed out that Abraham Lincoln was not only extremely interested in mechanical contraptions, but further, is the only president of the United States to ever hold a patent, which is on display at the Smithsonian Institution in Washington, D.C.
Beaver will again give a presentation on March 16, with his talk on much of the same material but with emphasis on the "Irish Connection" to Abraham Lincoln and central Illinois in those days. For information on times and reservations, visit www.elkharthistoricalsociety.org.
[Text from file received from Phil Bertoni]